If that coffee stain on your car's front seat has finally eaten away at you, and you're ready for professional auto upholstery cleaning, look no further than Todd's Carpet & Upholstery Care in Kansas City, MO. You simply put some things off longer than you should, and cleaning the interior of your car is one of those things. Well, at least having the seats professionally cleaned. Our team is here to help!
We're Locally Owned & Operated
We have over 20 years of experience in the auto upholstery cleaning service. We understand what shampoos and deodorizers to use, based on the type of stain, the age of the stain, and the type of upholstery materials we're cleaning. If you need us to detail your car's interior, including the carpets and seats, we have the equipment to do this work when you call us. And, our team of specialists are local, have been servicing the local market for years, and we take your car's cleanliness to heart. We want to deliver the highest standard in care and ensure the best outcome when you hire us for professional cleaning service needs.
A Cleaning Approach for Every Mess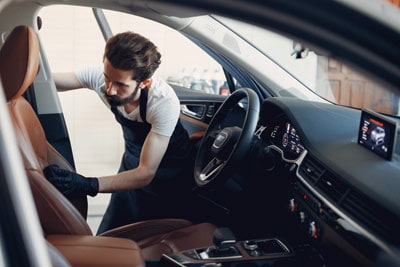 We know that not all stains are created equally. In some cases, if we use the wrong cleaning agent on a coffee stain, it can further penetrate the seat and do more damage than cleaning. Or, we can damage your upholstery if we aren't using the right cleaning equipment. Our crew will assess your auto upholstery cleaning needs before applying any cleaner or cleaning agent, to ensure it's safe and the most effective solution. We tackle every challenge differently and make sure we know what caused the stain before we attempt to remove it.
Let us assess your car's interior today! Call us for a service quote and to learn more about our affordable auto upholstery cleaning, and general cleaning services today.